Near my apartment there is a 24 hour sex store. They have a large display window that they use to show off their erotic wares. Around Christmas time they had a mannequin in a sexy little Ms. Claus outfit. The dude mannequin had his package wrapped in a package. There was snow everywhere. It was a regular winter wonderland. Around Valentines day, every thing was red satin and hearts. A perfect romantic night for two.
A couple weeks ago I was driving past and I found myself surprised by what I saw in their new window display. Shamrocks and clovers, and a sexy Leperchaun. Maybe this is a default of my own, but I just would never have thought to make St. Patricks day an erotic holdiay. I just don't see a holiday based around drinking alot and tiny little men with beards being an inspiration for lingerie purchases. Mardi Gras was going on, why not a girl with beads? Why not a woman being late for work so all she could put on was her corset to honor daylight savings day?
Am I alone on this? Do you guys think leperchauns can be sexy?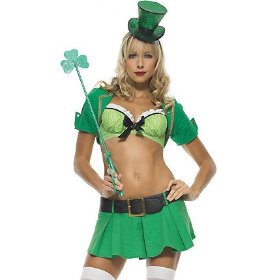 Labels: erotic, mardi gras, porn, st. patricks day