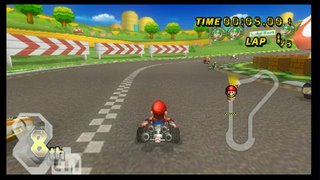 Screw it, I'm gonna go backwards!
Hey kids! Are you playing a game that all of a sudden you've stopped enjoying? Don't quit, instead just go into Enemy Mode! What's Enemy Mode you ask? Enemy Mode is where you continue to play and abide by the rules, while still trying to ruin it for everybody.
Playing Mario Kart and you're way behind? Simply go into Enemy Mode and run the race backwards! You're sure to be an obstacle and annoyance for everyone!
Poker night and all of a sudden you just 'don't feel like playing anymore'? Don't politely collect your chips and leave the table! That's the Adult thing to do. Instead switch to Enemy Mode! Make wild bets, tell some players what cards you have and not others, go all-in every hand! As long as you don't technically break any of the rules you're in Enemy Mode!
Playing Risk and you realize you're probably not going to win? Instead of trying your best and playing the game as it's meant to be played, ally yourself with another player (particularly if it's a significant other) and try to end the game as quickly as possible by letting them eliminate you! Not only will you be able to end this game quickly, Enemy Mode assures that you probably won't be asked to play again!
P.S. Sometimes Enemy Mode is actually awesome.
Labels: board games, Game theory, Risk, video games