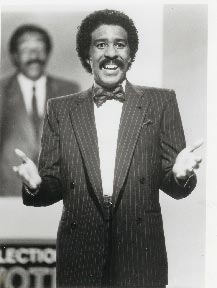 While republicans and democrats can't agree on the contents of a stimulus package, both sides want it to come about quickly, and more importantly, they hope the money distributed isn't saved, or used to replace other money that would have been spent. They want it in the economy immediately. FunBox has the solution: The Brewster's Millions Stimulus Package.
Remember Richard Pryor? That guy was awesome. And in 1985 he was in an awesome movie called Brewster's Millions. Basically, Brewster's long lost eccentric rich dude uncle dies. The will says Brewster has 30 days to spend $30 Million dollars. If successful, he'll inherit ten times the money.
So here's the deal. Let's take that $819 billion, divvy it up and give $1 million to 819,000 luck Brewster-Americans. Now there are a few conditions Brewster has to deal with and they'd also apply to our plan. Brewsters can't have new assets at the end of the month. This means they can' just buy cool shit and hang out with their stuff. They have to be out in society spending money! Injecting it into buisneses and individuals who'd likely respend it.
Brewsters can only solicit services and hire people offering actual value, and can't just give it away, gamble it, or buy things to destroy. That means no just laundering it through your friend, and no wasted materials.
So what does that mean? It means Party City USA! Brewster was a cool dude. He joins the mayoral election, throws killer champagne parties, and hires the Yankees to scrimmage his minor league team. For those of us unable to be brewsters ourselves we'll surly get to enjoy the fall out of all these parties, and all this good will going around.
A million for many, champign for all, and the greatest month of partying that this country has ever had. The Brewster Plan will not just entertain us, it'll save us.
Write to your congressman now.
Labels: Brewster's, economy, ideas, Politics