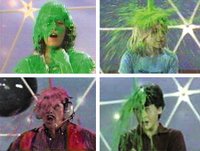 *If your girlfriend wants to convince you never to have kids she would do well to help you land a job working the Nickelodeon Kids' Choice Awards.
*Wrestler John Cena looks like a brick with arms and legs. He will also claim to watch SpongBob if it will help his fledgling movie career.
*Most of film making involves listening to people on walkie talkies asking "what's your twenty?" and carrying heavy things to be used block off seemingly random locations on set.
*Slime is best cleaned with washable children's diapers. It also kind of smells green.
*People who work on movie sets have more tattoos than pirates.
*Pirates would be good film makers because they can carry heavy things.