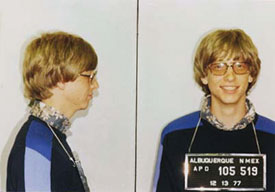 Scandal once again rocked the University of Michigan's mathematics department as charges were filed in Ann Arbor's 5th District Court against sophomore Vijaya Patel pertaining to his involvement in an August 15th incident that left his car totaled and his life in disarray.
Details of what happened that night are sketchy, but preliminary accounts indicate that an inebriated Patel drove his 1999 Ford Explorer into a fraternity house that, for reasons unknown, was already burning. Two bystanders were injured in the accident, and the entire evening was ruined for all.
Patel, Michigan's Math team captain, led the squad to a Big 10 title last season and helped them place 4th in the Putnam International Math Contest. Despite their disappointment, few are surprised by this latest display of drunken behavior. "He's a wild man," stated senior team member Reshma Raj. "I remember last year when he found out we placed fourth at Putnam, he just went postal. He punched his agent, trashed his hotel room, and then stormed out. We had to bail him out of jail the next day for solicitation."
Wild conduct and mathematics seem to go hand in hand recently, as incidents continue to escalate in both frequency and intensity. "Back when I solved we had a few social outliers," remarked former math star Gary Blanton. "Occasionally someone would get beaten pretty badly with a compass or a TI-92, but nowadays kids are insane," he said, perhaps referring to last week's arrest of Cumberland University's Ki-Yan Pang after he used a protractor to beat his pregnant girlfriend outside of a Charlotte, NC Sizzler.
"This violence is simply a by-product of the many stresses student-mathletes face," continued Blanton. "Subtraction of a girlfriend or the division of parents entangled in divorce only multiplies the probability of these scenarios taking place. Add in the sudden celebrity status often achieved through collegiate mathletics along with corporate endorsements and other variables and it's a difficult equation for an eighteen to twenty-two year-old virgin to solve. Understand, it's often difficult to separate real life from the violent pleasure evoked while solving third order differential equations. Rough kids like these often go on to be engineers, physicists, and avid supporters of dice-run fantasy card games."
Questions surrounding the totaled Explorer will only add to the University's woes. Earlier this semester the NCAA imposed sanctions after finding that players unlawfully accepted internships with Texas Instruments, Intel, and Kentucky Slide Rule. This is another black eye for a team still under investigation for using QWERTY calculators in competitions, and whose coach was suspended after strangling a player who failed to attend practice problem sessions.
In the end, Blanton feels that some kids are thrust into the limelight too early and should consider prep school before beginning math at the Division I level. As for Patel, the future looks grim. If convicted, he could lose his Angell Scholarship, forcing him to leave college, move to sunny California, and earn $80,000 programming in a Java-based language.
Labels: every three weekly flashback, Mathlete