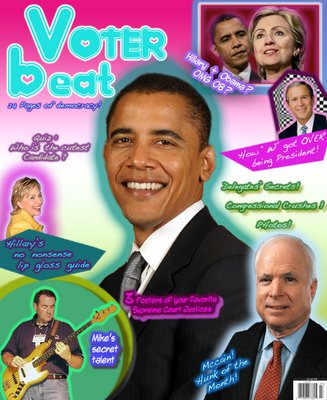 Inside this month's Voter Beat:
Shhhh! Can you keep a secret? Mike Huckabee can't! He couldn't wait to spill ALL of his love secrets to Voter Beat! Does Mike believe in love at first sight? What does he look for in a crush? Does his wife approve of his girlfriends? He answers all these burning questions and more in this month's issue, and he's also signed a tank top for one lucky reader! Can you say Oh My(ike) Huckabee?
Ever wanted a chance to go behind scenes at with John McCain as he speaks at a Disabled American Veteran's Hall? Look inside! One lucky reader will hit the campaign trail with John, where they'll "get out the vote," and get to make hundreds of phone calls every day! Plus John spills secrets about his experience in a Vietnamese POW camp, and tells us why his parents embarrass him! (Even though they're long dead!)
How bout more cool prizes? Hillary Clinton signed a program from her Augsburg College debate with Barack Obama! Plus, I know you've definitely dreamed of being a superdelegate right? Well, then you'll definitely want to enter our "Be a Superdelegate for a Day," contest. One lucky reader will get to go to the national party convention of their choice and get the star treatment before they cast their vote for America's future. Get all the deets on how to win in the magazine!
It's no secret that Barack Obama is probably the most famous 40-something in Washington D.C. How does he stay grounded? How does he make time for his friends. Does he have any pets? These questions and more answered inside!
Labels: 2008, barack obama, campaing, election, heart throb, hillary clinton, john mccain, Politics, superdelegate, voter beat