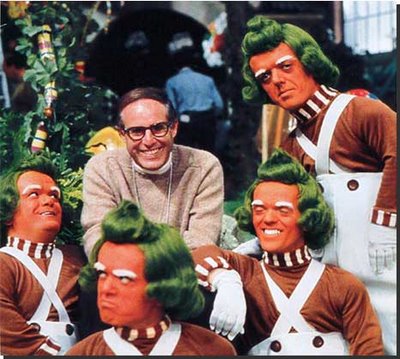 It's my first job in Hollywood; and it's exactly the way I imagined it!
INT. BACKLOT SET - DAY

Happy 1950's style music is playing. The Director, MR. JOHNSON is roaming the Set making sure everything is Just right for the big scene.
MR. JOHNSON
Hm, looks like we could use a few more rainbows in that dream machine! Don't you think so Jimmy!


JIMMY

(Salutes)

Yes sir Mister Johnson!
MR. JOHNSON

(To another P.A.)
Hey and don't you think this place could use just a little more fairy dust?
P.A.

(Gives a thumbs up)
Whatever you say Mr. J!
MR. JOHNSON

And how are we doing on that tinsel?


ME

Oh actually the Tinsel guys just called
they said they were going to be about 15 minutes late.


MR. JOHNSON
OH FUCKING TYPICAL! THIS IS FUCKING TYPICAL! WHERE'S SAM! IF I DON'T SEE SOME GODDAMN TINSEL IN THE NEXT 2 MINUTES SOMBODY'S GOING TO BE OUT OF A FUCKING JOB!
FADE OUT.

Insert - 10 HOURS LATER...
We see an exhausted Me slowly walking out to the parking lot. Dejectedly I get on a unicorn and ride it out of the studio and onto the Highway. It is packed with other unicorns and moving very slowly. There is a lot of unicorn smog.

Labels: being a star, famous, hollywood